What is a CEDS?
In 1978, NEFCO was designated as an Economic Development District by the U.S. Department of Commerce, Economic Development Administration (EDA) for the counties of Portage, Stark, Summit, and Wayne.  This designation gives member communities ongoing eligibility for economic assistance programs through the EDA.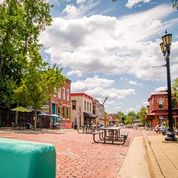 NEFCO maintains this eligibility by updating the Comprehensive Economic Development Strategy (CEDS), an annual document required by the EDA and containing the region's goals and objectives, and the economic development priorities of NEFCO members.
Every five years, NEFCO prepares a Revised Comprehensive Economic Development Strategy. The Comprehensive Economic Development Strategy Annual Performance Report is completed for all other years.   The CEDS, which represents the consensus of NEFCO's dues-paying members, articulates the economic development planning priorities of the region.
Vision Statement
NEFCO's regional economic development planning program strives to grow the region's economy through collaborative planning efforts with NEFCO's area governments and by assisting in activities that:
Promote a diversified and sustainable economy
Support the most economically distressed areas of the region
Capitalize on the region's existing strengths and assist with efforts to promote innovation and technology
Ensure the efficient use and development of land and resources.