Census Demographics
StatsAmerica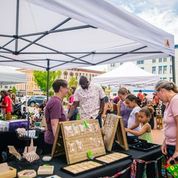 The goal of StatsAmerica is to provide actionable data for economic developers to use in site requests, developing metrics, grant writing, and strategic planning.
StatsAmerica is a service of the Indiana Business Research Center (IBRC) at Indiana University's Kelley School of Business, which is ranked among the nation's top business schools. With support from the Economic Development Administration, they have developed a unique and useful set of tools and reports, as well as providing access to other EDA-funded projects.
They obtain thousands of data items from hundreds of data sets from dozens of federal and state sources, along with some commercial or private source data.  While StatsAmerica adds value to these data through easy access and functionality, we acknowledge the direct agency source of the data on every table, profile or map.
For economic development data and tools, visit StatsAmerica.
The U.S. Census
The  Census Bureau's mission is to serve as the nation's leading provider of quality data about its people and economy. Their goal is to provide the best mix of timeliness, relevancy, quality, and cost for the data they collect.