Purpose of Plan
The purpose of the watershed plan is to build a framework for the long-term protection and improvement of the Middle Cuyahoga River, its tributaries, and watershed. A major focus of Watershed Action Plan is to achieve the goal of the Clean Water Act, i.e., to restore and protect the chemical, physical, and biological integrity of the nation's waters.  The Plan addresses water quality as a function of the interrelated elements of a stream system.  The Plan describes the framework that the partners are adopting to ensure the plan is implemented.
Who's Involved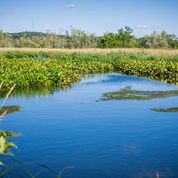 The planning process began in 2008, with assistance from the following regional partners:
Cities and counties
Non-profit organizations
Soil and Water Conservation Districts
Health departments
University faculty
Private citizens
Conservation groups
Park districts
Funders
The Plan was funded by the Ohio Department of Natural Resources (ODNR) through the Watershed Coordinator Program, with additional financial and technical assistance from watershed partners. The contents and views, including any opinions, findings, conclusions, or recommendations, that will be contained in this product or publication are those of the authors and have not been subject to an ODNR,  peer or administrative review and may not necessarily reflect the views of ODNR and no official endorsement should be inferred.